How Much Are Alumawood Aluminum Patio Cover Kits?
THE COST OF ALUMAWOOD ALUMINUM PATIO COVER KTS IN SUMMARY
Let's quickly break down the costs for each of the three Alumawood aluminum patio cover kits. Of course, basing our prices on a 10 x 10 x 10-foot high with a standard wall attachment for the Aluminum patio cover kit to adhere to.
Aluminum Lattice patio cover kits start at $7.31 per square foot and can go as high as $8.04 per square foot
Non-insulated Aluminum patio cover kits start at $8.11 per square foot and go as high as $8.95 per square foot
Insulated aluminum patio cover kits will start at $13.80 per square foot and go as high as $15.30 per square foot
---
What makes the aluminum patio cover kit prices vary is length and projection. Other than that, the pricing is fairly straight forward. In fact, there are few differences between those who distribute the Alumawood patio cover kit product line.
If you're in the market for a new patio cover and wish to install it yourself, what you want is an aluminum patio cover kit. As a new DIY-er, you might feel a little apprehensive diving straight into the DIY world of patio cover kits. Well, rest assured, you are not alone. In fact, the do-it-yourself patio cover kit business has grown by leaps and bounds. Instructions… manuals, and videos are aplenty. In a nutshell, the ability of the DIY-er to buy, install, and enjoy a new patio cover has become easier than ever before.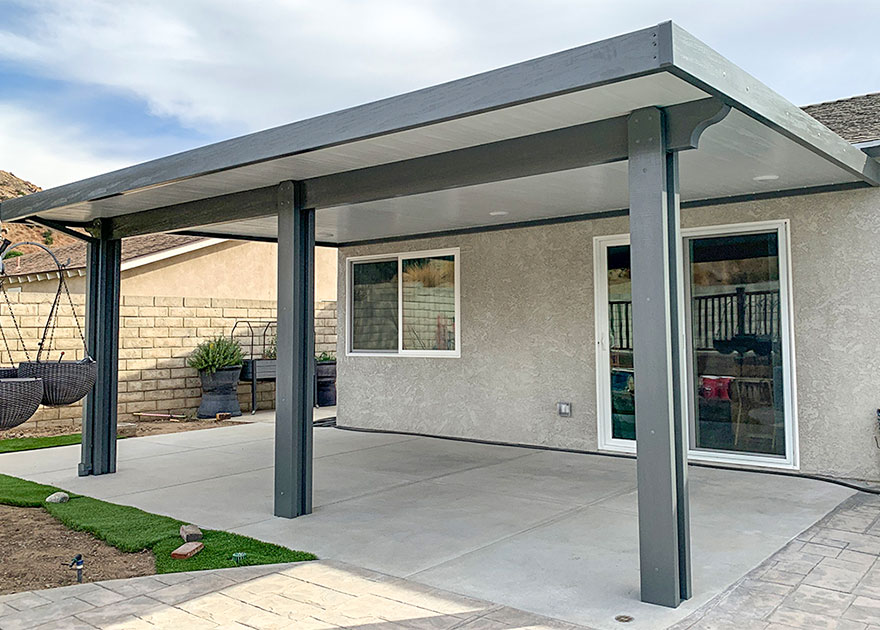 What is an Alumawood Aluminum Patio Cover kit?
Alumawood is simply the name of a manufacturer. Likewise, the product Alumawood is the material produced by the said manufacturer. Alumawood aluminum patio covers are manufactured and then distributed to qualified contractors throughout the United States. Patiocoverkits.com is one of these qualified distributors. Generally speaking, there are multiple different manufacturers of Aluminum patio cover kits. We feel that Alumawood sets the standard for aluminum patio cover kits everywhere. How much an Aluminum patio cover kit costs are dictated by the type and size of kit you plan to purchase. Oh, yea, and shipping.
There are three beautiful styles of Alumawood patio cover kits available
Well, the Alumawood aluminum patio cover kit line consists of three different products.
Laguna which is a lattice cover
Newport which is a solid non-insulated roofed cover
Insulated which is a solid insulated roofing panel system
---
Before you buy an aluminum patio cover kit, make sure you're buying a name like Alumawood. The quality of the product is unmatched. Trust me. As a distributor of patio covers, we can choose just about anyone to work with. But we choose Alumawood because of their warranty, product appearance, and availability.
Parts included in the alumawood aluminum patio cover kit?
As with most of the Alumawood product line, there are parts that are consistent throughout. For example, the Laguna, Newport, and Insulated versions all have the same framework. All alumawood patio cover kits come with posts, wrap kits which are basically the trim, and beams. Outside of that, you may wish to omit certain items such as trim for example.
On the other hand, there are items which you can also choose to have more of. These items may include things like beams, posts, trim, additional lattice strips, etc… Of course, adding additional items added to your kit will also increase your costs for the Alumawood patio cover kit.
Your chose of colors in your kit
Indeed, you will need to choose a color for your aluminum patio cover kit. Keep in mind that your choice of color will not affect the cost of any patio cover kit. In fact, you can mix-n-match between colors, throughout your Aluamwood Laguna, Newport, and Insulated patio cover. Alumawood has 8 different colors to choose from.
As I mentioned you can mix-n-match Alumawood patio cover kit colors. For example, you can have white Newport roof panels and brown trim. Or with lattice, you can have white posts and grey lattice strips, and brown rafters. The insulated patio cover's panels are available in two beautiful colors. White and Desert Sand. Otherwise, the rest of the cover can be whatever color you wish.
Alumawood Laguna Lattice patio cover kit
Simply put, the term lattice is sufficient when describing the Alumawood Laguna patio cover. When determining how much an Alumawood laguna patio cover kit costs we need to establish the lattice bar size and spacing. You can choose to space the lattice strips further apart thus allowing for a much larger savings in costs. As with all of the aluminum patio cover kits, the Alumawood Lattice patio cover kits prices are determined by overall size.
Alumawood's Laguna kits are available in three different lattice bar configurations. Which is to say there are three lattice bar sizes. First, we have the 1.5″x1.5″. Second, we have a 2'x2″. Lastly there are the 2'x3″ lattice bar strips. Lattice bars… shade bars… again, the name is interchangeable.
Whats in the box?
The Alumawood lattice strips are just one component of many that comes in an Alumawood patio cover kit. We have the posts. There are beams and trim. All together, these components make up the entire patio cover kit. Rafters and beams for the Laguna patio cover kits are all the same size. That said, as an upgrade you can, however, have the rafter material thickness increased. People do this when they have extra-long spans from the back of the house to the beam. Otherwise, if the rafters fall within the engineering specifications, the standard thicknesses are acceptable.
How much are Alumawood Laguna Aluminum Patio Cover Kits?
Use this calculator to get an ideal of costs *Excluding shipping
[bt_cc id="103″]
Newport non-insulated patio cover kit
Alumawood Newport's non-insulated roofed patio covers are the most affordable of the two patio cover "roofed' lines. Generally, these patio cover panels themselves are sold with a standard material thickness or "gauge". Otherwise, for larger spans, you may wish to have the thickness increased to accommodate. Engineering will dictate the specific thickness needed for the longer spans. Lights and ceiling fans are both possible and can be installed in the Alumawood Newport patio cover.
Aside from the roof panels you also have the beam, gutter, and wrap (trim) kit. All of these component's colors can be easily mixed and matched. Other upgrades include double beams and steel inserts into the posts and beams.
Insulated Aluminum patio cover kits
So the last of the three patio cover systems from Alumawood is the insulated patio cover kit. Effectively, this is their flagship patio cover system. Top of the line if you will. Insulated patio covers are comprised of a structural foam that is 3″ thick. Its sandwiched between two pieces of aluminum. Panels are 4 feet wide. Unfortunately, the panels are available in only two colors (White and Desert Sand), however, the remaining components can be just about whatever color you wish (within their color chart).
Of course, like the other patio cover kits, the insulated cover is comes equipped with posts, beams, and trim. Furthermore, the insulated patio cover can contain lights and ceiling fans.
FAQs for Aluminum patio cover kits